This is one of those times that I wish we could have a real-life enccounter with this guest blogger, rather than one on a screen. Elizabeth from Elizabeth Ann's Recipe Box shares about the delicious meals and baked goods that she creates. And much of the time, I find myself wishing I had a personal chef like this. I've definitely been inspired to get back in the groove of cooking once our Meal Baby calendar ends.
Today Elizabeth shares with us a delicious and frugal recipe! It reminds me of Rachel Ray's "Take 5" – a creatively simple meal made from just a few ingredients. Thanks, Elizabeth, for being a guest!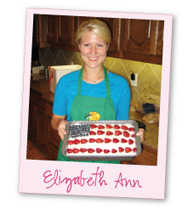 My friend,
Joanna
, introduced me to this incredible and easy dinner, and my husband and I are OBSESSED!
1 package (1 oz)  taco seasoning mix
1 1/2 cups Thick 'n Chunky salsa
1 lb lean (at least 80%) ground beef, cooked, drained
1 can (16.3 oz) Pillsbury Grands biscuits
1 cup shredded Monterey Jack cheese or Mexican cheese blend (4 oz)
1 cup sour cream, if desired
1. Heat oven to 375°F.
2. In medium saucepan, cook taco seasoning mix, water, 1/2 cup of the salsa and cooked ground beef until thickened.
3. Press each biscuit into 6-inch round. Fill each with taco mixture and 1 tablespoon cheese. Fold dough over filling and press to seal. Place on greased cookie sheet.
4. Bake 9 to 14 minutes or until golden brown. Serve with remaining salsa, cheese and sour cream.